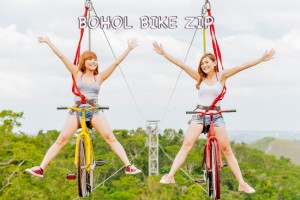 Tired of standing and viewing the Chocolate Hills the usual way? Go and try the Bike Zip in Carmen, Bohol!
The Bike Zip that Carmen is proud of is a "next level thing", not only on viewing the Chocolate Hills and the green valley surrounding it but also on how you do zip line. On the typical zip line, the only thing you have to do is to position yourself as you slide through the other end. But it's completely different in Bike Zip. On this new adventure, aside from positioning yourself while gliding you also have to keep paddling on your feet. Very tiring as it may seem but you have to do it because there will be a great tendency that you might stop on the center; and not to mention the constant need to keep your balance right.
Just like in any other adventure, here in Carmen safety should always be at first consideration. The team who operates the Bike Zip ensures that all the safety equipments are properly and tightly installed before having you try to zip. It will be a complete adventure out there so everything should be on its proper place. They also make sure that you are in proper condition, physically, as they get your blood pressure first. As long as your blood pressure is normal then you are good to go.
Breathtaking as it may be yet it is indeed unforgettable. While biking, you will see all the Chocolate Hills around. Tall trees will be like small grasses in sight. You will feel the breeze of the cold air; and the feeling of biking will still be there but no road at all.
After you do Bike Zip, you will have the feeling of contentment and self-fulfillment. You will feel the confidence to cheer up those who will try it at first and to console them that backing out will never be a good option.  Aside from these, you will always have that feeling to try the Bike Zip over and over again.
Missing out your moments of fun is not a problem at all because there are hired photographers in sight who are trained to perfectly take your moments while in the bike zip. They are paid 150 pesos only.
The Bike Zip is being compared to the Bike Zip in Davao but this one in Carmen, Bohol is not the usual "from pole to pole" but it's "from hill to another hill" experience. Yes, you got it right. Isn't that the real adventure?
For only 400 pesos, you will have the package of adventure and fun on its next level and you will go home thinking that your viewing of the chocolate hills is never like this before.