According to Accuweather.
These are the details of Linfa.
Linfa will move into northern Luzon later this weekend as a strong tropical storm, but impacts to the inland will start sooner. Outer bands of heavy rain will reach Luzon's northeastern coast on Saturday before spreading westward through Sunday. Drenching rain will persist in northwestern Luzon on Monday.
"The biggest threat is flooding," stated AccuWeather Meteorologist Rob Richards. "Rainfall amounts will generally be on the order of 75 to 150 mm (3 to 6 inches)."
In Pag-asa here the following Details:
SEVERE WEATHER BULLETIN #7
TROPICAL CYCLONE WARNING: TROPICAL STORM "EGAY"
Issued at 5:00 a.m., Saturday, 04 July 2015
Tropical Storm "EGAY" has maintained its strength as it continues to move closer to Northern Luzon.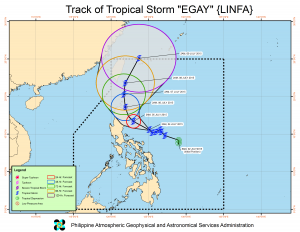 Estimated rainfall amount is from moderate to occasionally heavy within the 400 km diameter of the tropical
storm.
Fisher folk and small sea crafts are advised not to venture out over the seaboards of Southern Luzon and Visayas and the northern seaboard of Mindanao.
Residents in mountainous and low lying areas of Metro Manila, MIMAROPA, CALABARZON and Bicol Region are alerted against possible flashfloods and landslides.
The public and the disaster risk reduction and management council concerned are advised to take appropriate actions and watch for the next bulletin to be issued at 11 AM tooday.