Staying at a comfortable hotel while seeing the ambiance of the noted tourist attractions in Cebu City will certainly give you an experience of both amazement and relaxation. Worried about the price? No more at all, as we put here together the hotels that you will certainly love because of its quality service and its low price!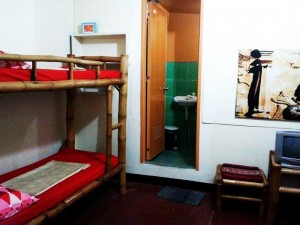 1. Cebu Guest House
– room rates at this guest house starts at only 325.00. This is conveniently located near the economic centers here in Cebu such as Ayala Center, Robinson's Place and Mango Square. It is located right across Lighthouse Restaurant.
Address: 211 Mango Avenue Cebu City, Cebu Philippines
Contact Numbers: 032 233 6010; +639228229449
Email Address: info@cebuguesthouse.com

2. La Guardia Hotel
– Rooms at this hotel starts at Php 550.00 only. They have a variety of rooms to choose from. They offer air-conditioned rooms with private comfort rooms which is very convenient to its guests and at the same time ofers a total value for money. It is located at downtown Cebu City where very affordable items can be found.
Address: Osmeña Boulevard, Cebu City
Contact Numbers: (63-32) 416-7889; 416-7881; 416-7787; 416-7788
Email Address: email@laguardiahotelcebu.com

3. Robe's Pension House
– This pension house boasts its clean, comfy, and nicely furnished rooms which are equipped with air condition, shower, cable TV and telephone. They also provide free wifi access for its guests. Their room rates start at Php 700.00 only.
Address: 41R Landon St., Cebu City Philippines (Corner Don Pedro Cui Street)
Contact Numbers: +63.32.412.5609 (globlines); +63.32.253.0104 (pldt); +63.932.420.0598 (sun mobile)
Email Address: reservations@robespensionhouse.com


4. Valleyfront Hotel
– Valleyfront Hotel is ideally located within Cebu City's bustling metropolis. The hotel has more than a hundred rooms to accommodate any traveler in search for comfort, function and convenience at an affordable price. Room rates starts form 780.00.
Address: Happy Valley Road Cor. V. Rama Avenue Cebu City, 6000 Philippines
Contact Number: +639423553254 (Sun Cellular); +639174915996 (Globe)
Email Address: sales@valleyfronthotel.com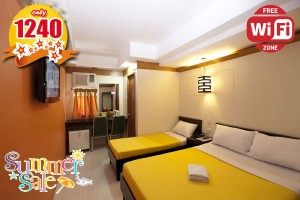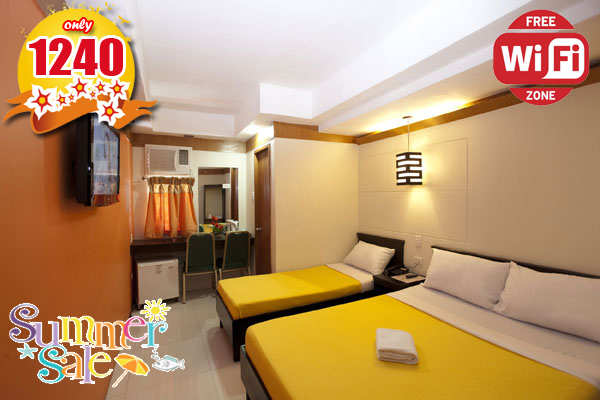 5. New Era Pension Inn Cebu
– You can choose from solo room to elegant family room, with rates ranging from 828.00 above.
Address:New Era Pension Inn Bldg. 828 New Era St. Mabolo, Cebu City Philippines
Contact Number: +6332 5203363; +6332 2665561; +6332 5143466
Email Address: cebucity@newerainn.com

6. Cebu Business Hotel
– Inspired by it's classic design with a touch of modern ambiance, Cebu Business Hotel is proud to provide a venue suited to meet the needs of the guests who stay for either business, conference and meeting, or simply as tourists and travelers. Room rate starts at 880.00.
Address: F&C Square, Colon corner Junquera Streets 6000 Metro Cebu, Philippines
Contact Number:63 32 2556010 to 13
Email Address:pearljoylabanza@ymail.com


7. The Center Suites
– Here in the Center Suites they do their best to make budget meet luxury as they offer the most affordable packages for their guests while not compensating the quality of service they provide. Room rates starts at 899.00.
Address: Brgy. Camputhaw, Gonzales Compd., Escario Street, Cebu City, Philippines, 6000
Contact Number: +63(32)-416-888-1
Email Address: info@thecentersuites.com



8. La Residencia Luzviminda Pensione
The pension house is strategically located at the heart of Cebu City and very near to several establishments like: (walking distance to) Southwestern University, Sambag I Brgy. Hall, South Bus Terminal, Cebu City Medical Center, Elizabeth Mall (eMall), Asian College of Technology, and University of San Carlos; (one-jeepney ride to) University of Cebu, University of San Jose Recoletos, University of Visayas, and Cebu Doctor's University; (15 minutes taxi ride going to) Cebu Seaport, Ayala Center Mall, and SM City Cebu Mall; (30 minutes taxi ride going to) Mactan International Airport. Likewise they are located along the main road where taxis and jeepneys are always available 24 hours a day. Room rates range from 900.00.
Address: 51 J. Alcantara St. (formerly P Del Rosario St. Extension), Cebu City Cebu Philippines
Contact Number: +63(2) 6229632; +63(32) 4167479; +63(917)6257776; +63(920) 9577759; +63(932) 8677768.

9. Regal Business Park Hotel
– Regal Business Park Hotel is committed to providing her guests with home-quality service, comfort and convenience, and they are treated with the kind of attention that is reserved for family. The hotel proved this to be true as they offer rooms elegantly designed but lowly priced. Room rates range from 960.00.
Address:Archbishop Reyes Avenue, across Ayala Center Cebu, Cebu Business Park 6000 Cebu City
Contact Numbers: +63(32) 412-2588 / +63(32) 232-6680
Email Address:reservations@regalbusinessparkhotel.com

10. Apple Tree Suites Cebu
– Looking for VALUE FOR MONEY, Apple Tree Suites definitely fits your requirements as it combines great service, clean and homey atmosphere with a warm and caring people committed to making your stay the best ever. Room rates starts at 998.00.
Address: 22 J. Llorente St. Capitol Site Cebu City
Contact Number: (+63 32) 253-4236; 0922-821-6697; 0917-307-8112; 0939-939-8060
Email Address: info@appletreesuitescebu.com