Puerto Princesa City is a known tourist destination here in the Philippines due to its Puerto Princesa Subterranean River National Park. Dubbed as one among the 7 New Wonders of the World, this underground river undeniably became a tourist haven, visited by not only locals but foreigners as well.
So to cater these tourists, a hotel accommodation is needed. There are lots of it already in Puerto Princesa and in the neighboring places in Palawan. To help you determine which among those hotels fit your desired service and planned budget, we have put here the 10 cheapest hotels in Puerto Princesa.
Here are the listings for affordable and cheaper rate of Palawan Hotel or Palawan Pension house that you can stay while exploring Palawan and its beautiful nature.
Palawan Affordable Hotel or Pension House Listings
1. Duchess Pension
– The first to our list with room rates that starts from 250.00! Located in the lovely area of Puerto Princesa Town Proper, Duchess Pension enjoys a commanding position in the sightseeing, nightlife, religious interests hub of Palawan. The hotel lies 0.5 km from the city center and provides accessibility to important town facilities. A haven of rest and relaxation, the hotel will offer total renewal just steps away from the city's numerous attractions such as Ka Luie's, Rizal avenue, Mendoza Park.
Address: 107 E. Valencia Street, Puerto Princesa Town Proper, Palawan, Philippines 5300
Contact Numbers: +63(48)4332873
Rates: Starting from Php2,500.00 ($50)


2. Circon Businessman's Inn
– Circon Hotel consist of 41 luxurious guestrooms that complement the warmth and friendly services that make you feel right at home. With a perfect blend of both business functions and leisure vacations, the Circon Hotel will make it all happen flawlessly for you. Room rates starts at 500.00.
Address: Circon bldg.,Valencia St. Bgy. Masikap,Puerto Princesa City
Contact Number: 433-2738; 433-3396; 0999-1990782; 0917-5262008
Email Address: circonhotel@yahoo.com

3. Coron Reef Pension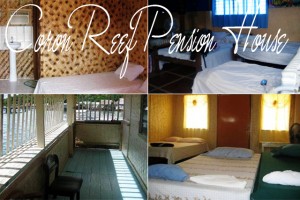 – Designed for both business and leisure travel, Coron Reef Pension is ideally situated in Coron Town, one of the city's most popular locales. From here, guests can enjoy easy access to all that the lively city has to offer. A well-kept environment and its proximity to Coron National highway, Mount Tapyas Viewdeck, Coron Bay give to this hotel a special charm. Aside from its surrounding, the Coron Reef Pension House also prides of its low room rates which range from 600.00.
Address: Barangay 5, Bancuang, National Highway Coron, Busuanga, Palawan, Philippines
Contact Numbers: +639198877151; 0918-336-1661
Email Address: chinet@coronreefpensionhouse.com
4. Apartelle de Gabrielle
– 600.00 is the lowest rates of the rooms in the hotel. All guest accommodations feature thoughtful amenities to ensure an unparalleled sense of comfort. The hotel's garden, massage are ideal places to relax and unwind after a busy day. Whatever your reason for visiting Palawan, the Apartelle De Gabrielle is the perfect venue for an exhilarating and exciting break away.
Address: National Highway, Poblacion 5, Coron Town, Palawan, Philippines
Contact Numbers: 09399213119, 09158819786, 09292908616, 02-5111805
Email Address: bmp_dsa@yahoo.com

https://www.agoda.com/partners/partnersearch.aspx?cid=1429319&pcs=1&hid=301775&sort=priceLowToHigh
5. Annabelle's Pension
– The place is just right; for those who are looking out for a getaway place that offers the comfort of a real home away from home; for everyone where peace and tranquility is a must; and for each one who wants to experience living like home in Puerto Princesa while exploring the beauty of the Philippine's Last Frontier and discovering the fun that it offers. 700.00 is the cost of the cheapest room of the hotel.
Address: New Princesa, Brgy. Tiniguban, Puerto Princesa City
Contact Numbers: 0920-2572-887; 0905-3765-100
Email Address: info@anabellespension.com

6. EJ Pension House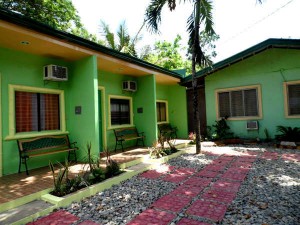 – Step into one of 10 inviting rooms and escape the stresses of the day with a wide range of amenities such as desk, non smoking rooms, television, internet access – wireless (complimentary), shower. The hotel offers an excellent variety of recreational facilities, including massage, garden. EJ Pension House is a smart choice for travelers to Palawan, offering a relaxed and hassle-free stay every time. 800.00 is the cost of their cheapest room but still quality style and service beautify the room.
Address: PEO Road, Bgy. Bancao-Bancao, Puerto Princesa City, Palawan
Contact Numbers: 09175532900
Email Address: ejpensionhouse@yahoo.com


7. Novie's Tourist Inn
– Novie's Tourist Inn is home to 7 bedrooms, all tastefully furnished to provide comforts such as fan, non smoking rooms, desk, air conditioning, shower. The hotel's garden are ideal places to relax and unwind after a busy day. The starting cost of the hotel's room is 900.00.
Address: Brgy. Corong Corong, Sitio Lugadia, El Nido, Palawan 5313 Philippines
Contact Numbers: +63 908 303 2662
Email Address: cherryamorcabling@yahoo.com
8. Puerto Pension
– Puerto Pension is located at 35 Malvar St., Puerto Princesa City, Palawan, Philippines. Puerto Pension's charm and hospitality will make your stay in Puerto Princesa feel a little bit more like home. With complete services and Free WI-FI Internet connection, Puerto Pension offers a friendly, native atmosphere amidst quiet surroundings. Payment for room accommodation starts at 945.00.
Address: # 35 Malvar Street, Puerto Princesa City, 5300 Palawan Philippines
Contact Numbers: (63) (48) 433-2969; (917) 836 6316; (947) 897 2335

9. Lola Itang Pension and Restaurant
– Hotel accommodations have been carefully appointed to the highest degree of comfort and convenience, with satellite/cable TV, air conditioning, television, complimentary bottled water, shower in each room. The hotel's massage, garden are ideal places to relax and unwind after a busy day. Lola Itang Pension and Restaurant is an ideal place of stay for travelers seeking charm, comfort and convenience in Palawan. Given all those amenities, Lola Itang Pension House still think of the affordability of its valued guests so they put costs to their rooms that would satisfy your budget. Lowest among these is 950.00.
Address: Roxas Street, Puerto Princesa City Palawan, Philippines, 5300
Contact Numbers: +63916-233-3652; (048) 433-2990
Email Address: lolaitang@yahoo.com

10. Oriental Lodging House Coron
– Ideally located in Coron Town, this property is close to city's famous places to visit such as Calauit Game Preserve and Wildlife Sanctuary, Tubbattaha Reefs, El Nido Marine Reserve, Honda Bay, Tabon Caves, Cuyo Fort, Melville Lighthouse and Tabon Museum. The hotel is situated in front of the New Park and Tourism Center Building near Coron Public Market. All accommodation units, with the costs starting from 980.00, are tastefully furnished and equipped with modern amenities for guests' utmost comfort. The onsite restaurant serves Asian as well as international cuisines for guests to enjoy. There is also a snack bar available onsite for guests to enjoy their favorite drink. Oriental Lodging House offers excellent services and pleasant atmosphere to ensure a memorable getaway.
Address: Mao Building Barangay Poblacion 3 Coron, Palawan
Contact Numbers: +639198282934
Email Address: orientallodge@yahoo.com