History
Angeles City, before it was known as such was but a small settlement led by Captain Mayor of San Fernando, Don Angel Pantalion de Miranda. It was named as "Culiat", which name derived from a woody vine that was abundant in the area at that time. People who inhabit the place were the Negrito Tribesman.
Barrio Culiat continued to be part of San Fernando for 33 years wherein a chapel, primary school and some industries were established, like sugar mill and wine distillery, which helped the economy of the barrio to flourish at that early time. On December 8, 1829, the barrio became a separate town from San Fernando after Don Angel paid the necessary amount required by the law at that time for the separation of Culiat. After that, the name of the town was changed to "El Pueblos de los Angeles" in honor of its patron saint Holy Guardian Angels and to the name of its founder, Don Angel.
The first American government of Angles was established by General Frederick D. Grant on January 1, 1900 and 64 yeas later from that day, Angeles City became a city.
Population/ Language/ Area
Angeles City recorded a total population of 326,336 as of 2010. The growth rate is estimated at 2.32%. The language used is Kapampangan, but Tagalog and English language is also spoken and understood anywhere in the province.
The City of Angeles has a total land area of 60.27 km2 (23.27 sq mi) which is divided into different land use like residential (34.25%), agricultural (39.43%), and then followed by commercial, industrial, institutional facilities and parks. The city is located in the province of Pampanga, Philippines. It is bordered by Mabalacat City to the north; Mexico to the east; San Fernando to the southeast; Bacolor to the couth; and Porac to the southwest and west.
Products and Services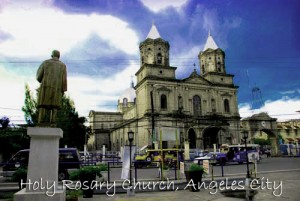 The City's economy accelerated due to various businesses, technologies and modern highways that have been established and constructed in the city, thus trade and transport has tremendously improved.
The latest figure of commercial establishments operating in the city is 15,375. Manufacturing and exporter industries topped the operation in the city with about 90.19% are of light and medium industries and nine and 80/100 percent (9.80%) are agro-industrial. Angeles also has a cottage industry that includes Rattan furniture production, production of coco
nuts, charcoal, and briquettes; a semiconductor industry involved in the manufacturing of electronics and computers.
Business investments in 2000 amounted to P3, 021,728,527.07. The Clark Special Economic zone, which is bound on the north of the city, has a total of 276 business establishments included in the Clark Development Corporation. In 2001, the city was also featured as one of the "Hot Cities for Business". With the vast resources and increase in the labor force, Angeles is surely a hot spot for investment .
Business Opportunity

Angeles City is a fast growing urban center in Central Luzon. With the development of the Diosdado Macapagal International Airport as a premier international gateway, Angeles City has a bright economic prospect. It is also centrally located in the heart of the largest agricultural region of the country. Moreover, it is located at the intersection of two expressways. Thus, the city is poised to become a logistics center.
The development of Clark Economic Zone is another plus factor to choose Angeles City as an investment site. Businesses with brighter prospects include electro-electrical manufacturing, textile and clothing, transportation equipment, household goods, food processing, technology-related industries, commercial complexes, mass housing, tourism-related businesses, export and import activities, aviation services, and training centers.
Tourist Spots
Bale Matua – one of the most renowned tourist spot in Angeles City. This is an old house situated within Santo Rosario. Known as the oldest house in the city, Bale Matua is founded by the rich man named Don Angel Pantaleon de Miranda in the 1800s. Inside this mansion, people acan find artifacts that can suggest the culture and lifestyle of early people in Angles City.
Bayanihan Park – vacationers and tourist can enjoy kite flying here. There are also various facilities for sport-loving tourists like basketball and volleyball courts. This place is very popular since mane spacial event in the city are normally being held here like festivals, religious ceremonies and bazaars.
Festivals and Celebrations
Hot-Air Baloon Festival – held every February in Clarkfield, where the balloonist from various countries features their own made balloons.
Feast of the Guardian Angels – this is Angeles City's foundation day celebration.
Apu Fiesta – held every last Friday of October wherein all devotees flock to the Holy Rosary Parish Church to venerate the miraculous image of Jesus Christ lying in the sepulcher.
Tigtigan Terakan keng Dalan – celebrated every last Friday and Saturday night of October in lieu of Kuliat Fiesta which features street singing and dancing up to the wee hours of the following day. This is the local version of the Mardi Gras.
If you're a traveler or a tourist you can check this affordable hotels in Angeles City.
Another helpful link that you can go check is the Angeles City Directory