"The Metro Manila's ProbinSyudad"
History
Before the Spanish colonization, Taguig was part of the Kingdom of Tondo ruled by Rajah Soliman. It was said that the area's population at that time was 800 consisting of the locals and various Chinese settlers. The town produced more that enough rice for their consumption but had less sugar cane to mill. The men lived through fishing while women wove cotton cloth and "sawali" from bamboo strips.
Year 1571, Spain dominated the country. They Christianized the whole village and was recognized as part of the encomienda of Tondo under Alcalde mayor, Captain Vergara. It was 1587 when Taguig was proclaimed as an independent town under the province of Manila with 9 barrios. Captain Juan Basi served as its first Kapitan from 1587 to 1588.
It was said that many of the people have resisted the rule of both Spaniards and American opperssion. Don Juan Basi, the first Kapitan of Taguig attempted to overthrow the Spanish government but failed and was exiled for two years as a punishment. When Katipunan started, many from Taguig became its followers and later joined the uprising. When General Emilio Aguinaldo formed the revolutionary government, the people of Taguig joined it. When the Americans came to possess the country, they again went and fought unitedly, though marked by struggles. It was one of the most difficult days of Taguig, being forcefully owned and abused by its foreign oppressors but they continued until their united efforts and sacrifices led to the freedom they long hoped for.
It was until 1998 that a bill was passed in the Congress pushing for the cityhood of Taguig. A plebiscite was conducted, however it showed that the people were against its cityhood. The a petition was sent to the Supreme Court, petitioning for a recount. February 19, 2004 the Supreme Court ordered the Commission on Elections to conduct a recount. The recount showed that the residents did want the municipality of Taguig to become a city with its count: 21,105 on "yes" and 19,460 on "no". Subsequently, Taguig became a city on December 8, 2004.
Population/ Language/ Area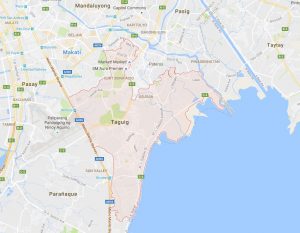 Taguig has a total population of 613,343 according to August 2007 census with a growth rate of 3.82% from 200-2007. Total land area is 47.88 km². The city lies on the western shore of Laguna de Bay and is bordered by Muninlupa City to the south; Parañaque City to the southwest; and Pasay City to the North.
Products and Services
Some of the city's products that they currently promoting to support their industry are:
Inutak – a delicious and creamy rice cake that melts in the mouth. Made from galapong, coconut milk and sugar. A great partner for ice cream.
Business Opportunity
Taguig City, compared to any city in Metro Manila, has a lower tax rates enabling the any businessman to start a good business in the city. Taguig is also a house of 16 universal and commercial banks, 10 rural banks, 1,126 manufacturing firms, 243 restaurants, 13 registered batching plants, 2 shopping malls, 24 cottage industries and 7,776 registered commercial and industrial establishments.
Tourist Spots
American Cemetery and Memorial – this cemetery which is dedicated to the American soldiers who fought and died during the World War 2, was established in May 1947 at Fort Bonifacio. Due to its wide variety of trees and shrubbery, this memorial ground is a favorite destination of tourists and war veterans.
Archdiocesan Shrine of St. Anne – one of the oldest churches in the Philippines built during the term of Fr. Diego Alvarez.
Dambanang Kawayan – a century old church with altar, wall sidings and benches that are made from pure and native bamboo.