History
Before the Spaniards came, San Juan was just a village and was part of the Kingdom of Namayan and ruled by King Lacantagean and his wife Bouan. When the Spaniards took possession of the kingdom, they renamed it to Sta. Ana de Sapa, the village was still a part of it but became a small encomienda by 1590.
The first battle of the Philippine Revolution that achieved independence from Spain, began in San Juan in 1898.
On June 16, 2007, voters in San Juan ratified the conversion of the municipality into a highly urbanised city, pursuant to Republic Act No. 9388 ("An Act Converting the Municipality of San Juan into a Highly Urbanized City to be known as the City of San Juan"). Then congressman Ronaldo B. Zamora sponsored the Cityhood Bill at the House of Representatives and worked for its approval.
Population/ Language/ Area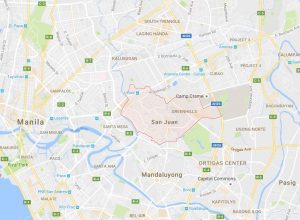 2010 census stated the city's population as 121,430.
The geographical location of the city is bordered by Quezon City on the north and east, Mandaluyong City on the south, and the City of Manila on the west.
The territory of San Juan was once much larger than it is presently, stretching all the way to Caloocan City. Parts of what are now Districts 1, 2 and 4 of Quezon City as well as parts of Mandaluyong were originally within the San Juan territorial boundaries. This explains why the San Juan Reservoir is in the nearby Horseshoe Village, a subdivision under the jurisdiction of Quezon City.
Business Opportunity
The famous Greenhills Shopping Center, a popular mall with tiangges (flea market stalls) where you can bargain for cheaper prices, is located in San Juan.
Tourist Spots
Located in the city are Xavier School, a prominent all-boys school in South East Asia; the Immaculate Conception Academy-Greenhills, a Chinese school exclusively for girls; and De la Salle High School Greenhills. The Asian Institute of Journalism and Communication and the Polytechnic University of the Philippines – San Juan are also located the city.
The city is also known for its festival called Basaan for their patron Saint John the Baptist which is being held every June 24th. In this festival, the people used to throw waters to anyone they meet including the vehicles of those passers by.