"Home of Great Leaders"
Batac City is named as such because it served as the hometown of the most significant leaders in the Philippines. Some of them are the former President of the Philippines, Ferdinand Marcos; the founder of the Philippine Independent Church, Gregorio Aglipay; and the "Father of the Philippine Army", Gen. Artemio Ricarte.
History
Batac, as a town, was founded by the Augustinians in 1587. It is actually the second oldest town established in the province of Ilocos Norte. It actually reached its 4th centennial.
Batac was officially organized into a ministry on January 5, 1586. The first priest assigned to cathecize the natives of tile community was Fr. Esteban Marin, an Augustinian who probably arrived in Batac in 1585. Paoay and Dinglas (Dingras) were then the visitas of Batac.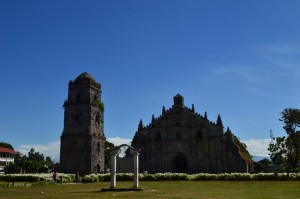 Folk history states that there were two villages in Batac during the early part of tile foundation of the town, one was an Itneg community which occupied sitio Nangalisan and a Christian community occupying San Jose.
The first site of tile poblacion was in San Jose, which is now called Barangay Palpalicong. It is said that the ethnic minority groups of Bangui and Nueva Era are the pre-Spanish descendants of early inhabitants of Batac.
The Augustinians considered the people of Batac more civilized than tile other tribes, because they were better than the other "Indios" in personal cleanliness.
Population/ Language/ Area
With the total land area of 16, 101 hectares, Batac City lies in the southwestern portion of the Ilocos Norte province. The municipality of San Nicolas is on its north while the municipality of Sarrat lies in the northeast. The municipality of Marcos situated on the city's east-northeast, the municipality of Banna on the east, municipality of Pinili on the southeast, municipality of Currimao on the southwest, and the municipality of Paoay on the west are its boundaries. The city is about 472 kilometers north of Metro Manila, about 18 km. south of Laoag City, the capital of the province.
According to the 2010 population census, Batac City is being lived by a total of 53,542 people.
Products and Services
Main products of the city includes rice, tobacco, garlic, tomato and mango. The people are also raising cattle, poultry, swine and other domestic animals. There are also some who weave clothes for apparel and blankets. Mat-making and pottery are also a well-developed industries.
Tourist Spots
Marcos Museum and Mausoleum – this is where the glass-entombed, preserved corpse of the former President Ferdinand E. Marcos is found. This museum also holds the memorabilla of the late President all from his service career.
Batac Riverside Empanadaan – show the most famous product of Batac and a hall,ark of tourism promotion. This is also where the array of products, gift shops, food stalls offering mouth watering treats like empanada, miki, longganisa, pusit, barbecue and others. Thisis also declared as a very good location to do business in the area.
Festivals