Alaminos City, referred to as the "Home of the 100 Islands" is located at Pangasinan. Even though a place with separated islands, it is still a place of united people with the attitude of optimism and sense of adventure and a growing faith to the Diety.
History
Before 1747, Alaminos was still part of Bolinao, one of the nine towns of Zambales. After years of progress and improvement it became an independent town. The town got its name year 1872 as part of honoring Lieutenant Governor General Alaminos, the Governor General of the Philippines at that time.
With the desire to be more progressive, a Republic Act 9025 known as "An Act Converting the Municipality of Alaminos, Province of Pangasinan into a Competent City to be known as the City of Alaminos" was passed in the congress. This act was signed March 5, 2001 and a plebiscite was held dated March 28, 2001 which was also positively voted by 85% of the Alaminos. That united action alone brought the simple municipality to be a competitive city.Traders, businessmen and investors soon flocked the city which became a great contribution to its continued growth throughout the years.
Population/ Language/ Area
According to the 2010 census, Alaminos has a population of 85, 025, living in 39 barangays. The land area is 16, 157 hectares. More parts of it is considered as forest land so expect that the embrace of nature will surely welcome you as you visit Alaminos.
The people greets every visitor with a warm welcome and a sweet smile. The people here speaks Ilocano and Panggalatok. If you find yourself hard to speak their dialect or at least to understand them, don't worry they can still talk with you in Tagalog and in English. So its never a far-from-home experience when you are here. They are also rich in cheerful native songs and wonderful literature.
Products and Services
With a total of 278 hectares of considered forest lands, it is no surprise that Alaminos is rich in agriculture products. Corns, coconuts and rice are some of it. They also take pride of their bamboo and rattan craft industries. Also rich in sea production, they also feel proud of their bangus where their very own grilled bangus belly is made from. Some of their native delicacies are pancit miki, longanisa, patupat, suman and bagoong –  all Alaminos version.
Tourist Spots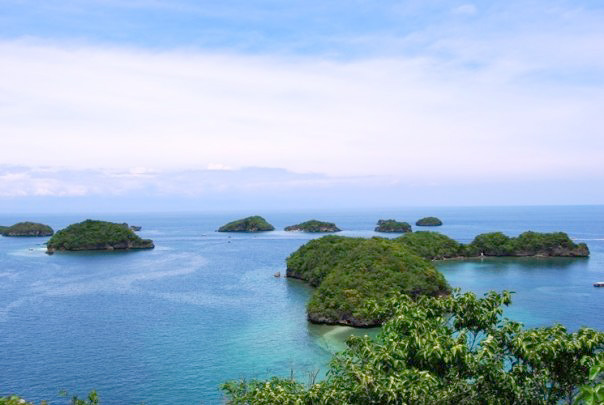 Hundred Islands is the main tourist attraction in Alaminos City. They offer diving to their blue-green waters that will give you a glace at the underwater beauty of the islands. After diving, relaxing at the coves of the island will give you a great urban retreat. Visitors can also feel marveled at the 10 caves of the Hundred Islands.
Aside from the Hundred Islands, Alaminos also offers other tourist spots that will surely give its visitors a paradise experience. To name a few, they have this horseshoe-shaped with shallow water beach called Bolo Beach.