History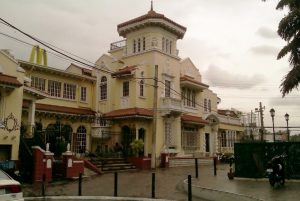 Even before the Spaniards came, there were already class of people living in Pasig. They were called Remontados who used to live in the mountains.
According to an American anthropologist named H. Otley Beyer, the first settlers in the city were groups of people of varied cultures and racial types who came to the Philippines in migratory waves during the long period of 25,000 to 30,000 years ago.
At about 1450 A.D. the Pasig was a peaceful kingdom and was being ruled by Dayang Kalangitan, wife of Gat Lontok. It was also said that the people at that time were getting their foods at the river. There were also some who used to wash their clothes there. Others used the river for taking a bath.
Pasig was a part before of Rizal province and served as its capital. However in 1975, it was carved out of Rizal and became part of Metro Manila when the Metro manila Commission was created by President Ferdinand Marcos through Presidential Decree 824.
Pasig continued to grow economically until it was converted into a highly urbanized city on January 21, 1995 through Republic Act 7829.
Population/ Language/ Area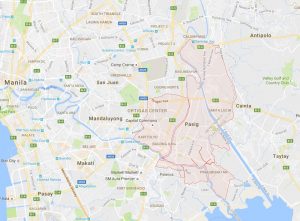 2010 census stated that the population of Pasig city reached up to 669,773. The approximate land area comprises 11.97 sq miles (31 km²).
Business Opportunity
The western part of the city is where most of Pasig's financial resources are primarily concentrated. It includes numerous factories, warehouses, establishments and commercial facilities. Primarily they situated in the Ortigas Center, Pasig proper and along E. Rodriguez Jr. Avenue (C-5) and Ortigas Avenue. Real estate and commercial developments along Mercedes Avenue and other areas near the city center are developing. The eastern part was mostly dominated with residential areas but numerous commercial establishment are now developing along Marcos Highway. Per capita income (GDP) of Pasig is $12,032 per year. The barangay of San Antonio has the largest income in Pasig, second only to San Lorenzo of Makati as the largest single income-generated government unit in the Philippines. Arguably more significant western part of Pasig, east of the city of Mandaluyong and as part of the barangay of San Antonio, lies the Ortigas Center
Tourist Spots
Pasig City Museum – a museum that shows the history, art, culture and tourism in the city.
Bitukang Manok – a serpentile like part of the Pasig River. Some of the history of the Philippine Revolution happened here.
Bahay na Tisa – the oldest bahay na bato in existence in Pasig. Built by Don Cecilio Tech y Cabrera in the early 1850s.