Navotas is considered as the Fishing Capital of the Philippines and also a first class city in Metro Manila.
History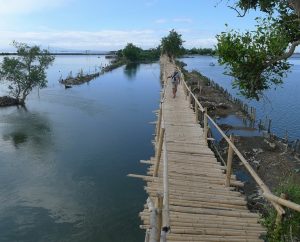 The whole Navotas was once part of Malabon. According to a legend, there was once a long and narrow delta extended unbroken from north to south along the seashore. The strip of land between the former district of Tondo and this town was eaten away by the sea until as opening was made. Water started to flow through the opening. The change in the place made the residents to refer to the place as "butas", "nayon ng butas" or "nabutas", Tagalog words that mean breached or pierced through. In the next years, the place became known as "Nabotas", then "Navotas".
The place was also known as hacienda de Navotas and was owned by the Dominican friars until it was sold to the Pascual family during the early days of the American occupation and developed into a residential estate.
Its locality was named as "San Jose de Navotas" after its patro saint "Saint Joseph". On June 11, 1859, a "Superior Decreto" established a new parish and municipality under the supervision of Friar Matias Navoa. The people was divided into two groups: the naturales (locals) and the mestizos. The city has an incomplete and limited records regarding the next history of this.
In 1904, the town was merged with Malabon with Bernardo Dagala as the elected municipal president. Two years after, Navotas became a separate and independent municipality with the enactment of Act No. 1442 which separated it from Malabon. And on June 24, 2007, the municipality became a city after a plebiscite was conducted.
Population/ Language/ Area
According to 2010 census, Navotas City has a total population of 249,131 with a total land area of 4.158 sq miles (10.77 km²).
Products and Services
Navotas is the major producer of fish in the market of Metro Manila. Almost 70% of the people here works in fishing industry – fishermen, boatmen, fish trader, fishnet mender, and fish market seller. Navotas Fish Port Complex, which serves as the landing ground for most commercial fishing boats in the country, unloads an average of 800 tons of fish. Other provinces also bring an additional of 50 tons of fish by land. All these happen everyday.
The city is also known for its patis (fish sauce) and bagoong (shrimp paste).
Business Opportunity
Navotas City lately became a Marine Industrial Estate. This allows local fishermen to make a living by their own catch in public markets or to private companies that who also engage in seafood production and related business.
Tourist Spots
Navotas City take pride of their Agora Market where the freshest and tastiest sea foods are sold.