"The Coconut Capital"
History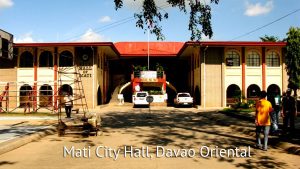 Mati comes from the Mandayan word Maa-ti which refers to the town's creek that easily dries up even after heavy rain. Pioneer settlers were tribes Kalagan, Mandayan, and Maranao which carried strong Arabic and Indo-Malayan influences.
Captain Prudencio Garcia, the pioneer political-military head in 1861, and his comrade Juan Nazareno founded Mati and two other towns in Davao Oriental. By 1903, Mati was declared a municipality by virtue of Act No. 21. By 1907, Act No. 189 further reaffirmed the establishment of its local government. Bonifacio Serrano was the first appointed mayor while the first elected mayor was Patricio Cunanan in 1923. Mati became the capital of Davao Oriental since 1967.
The Japanese Imperial forces landed in town and occupied most of eastern Davao region in 1942. Mati was liberated in 1945 by the Allied Philippine Commonwealth troops of the 6th, 10th, 101st, 102nd, 103rd, 104th, 106th, 107th and 110th Infantry Division of the Philippine Commonwealth Army, 10th Infantry Regiment of the Philippine Constabulary and the Davaoeño guerrilla units.
Mati celebrated its grand centennial in 2003.
Population/ Language/ Area
The recorded population of Mati City as of 2010 was 126,143 and the total land area is 682.00 km2 (263.32 sq mi).
Products and Services
Agriculture products are the main source of living here. Products include coconut, which is planted almost anywhere int he city; bananas; pineapples; and fishes.
Business Opportunity
Mostly, the local people rely on agriculture and agro-industries for living. Different products like banana, pineapples, coconut and fish are exported to other countries. This region is linked to the markets of Mindanao, Malaysia and Indonesia. Because of its tropical nature and beaches, tourism is a rapidly growing business here. And with its large deposits of copper on its outskirts, mining is also contributing to the city's economy.
Tourist Spots
Cinco Masao Beach Resort
Pujada Island
Dahican Beach