"Rodeo Capital of the Philippines"
History
The islands of Masbate, Ticao and Burias were explored by Captain Luis Enriquez de Guzman in 1569. This exploration work was continued by Captain Andres de Ibarra. Ibalon (Albay) Province assumed jurisdiction over Masbate Islands, and Masbate was named the town's capital village; for security reasons, the seat of government had to be moved time and time again. It was first moved to Mobo and then again, to Guiom. It was later transferred to Palanog near the mouth of Lumbang River to make it more accessible to Bicol mainland and to the islands of Burias and Ticao. However, government records were kept inland in Cagay.
The political history of the town dates back to the 1850s when the Spaniards established their government under a Spanish Gobernadorcillo. The Masbateños' vassalage to Spain ended sometime in the early part of 1898 as an offshoot of the libertarian campaign waged by General Emilio Aguinaldo.
Population/ Language/ Area
As of 2010, Masbate City had a total population of 85,227. Majority of the people speak Minasbate as the main language of the city. There are, however, some people who speak Cebuano and Hiligaynon. Source of living of the people are equaly divided according to the place where they live.
Products and Services
Masbate City serves as the center of trading activities in the province. Local product such as dried fish, copra, rice, coconut, crabs, fish, prawn, bangus, livestock are being exported to Manila, Cebu, Iligan, Roxas, Iloilo, Tacloban, Ormoc, Legaspi, Naga, Daet and Sorsogon. The aquamarine products are also shipped-out to Metro Manila, Cebu, Batangas, and Lucena. Shrimps, crabs, and prawns are shipped to Japan; mud crabs to taiwan; headless squid to USA and Japan; crab meat to USA and scallops to Europe.
The city is importing products mainly from Manila, Lucena, Cebu and Legaspi. These are mostly rice, bakery raw materials, transport vehicles and appliances, farm inputs, construction materials and basic commodities. These are also traded by the city to other municipalities in the whole province.
Tourist Spots
Buntod Sand Bar and marine Sanctuary – this is the first established marine sanctuary of the city where hard and soft coral covers highlights the underwater scenes.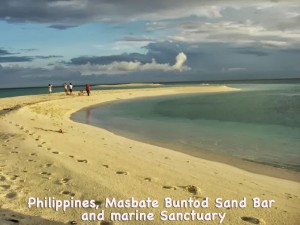 Bugsayon Marine Sancturay – this is a 50-hectarte marine sanctuary where a traveler can experience to see the live corals and its diverse marine animals.
Tatoo Island – also called as Minalayo Island. It has a number of openings of various sizes that lead to an underground lagoon where sea snakes and bats reigns.
If you are a tourist and new to the city this Affordable Masbate Hotels can be a good choice to stay.
Festivals and Celebrations
Lapay Bantigue Dance Festival – celebrated annually during the City Anniversary on 30th day of September. This event highlights the traditional folk dance created by "Lola Felisa" many years ago, when she imitated the graceful movement of the seagull (locally known as Lapay). The dance has evolved and is now recognized by the Cultural Center of the Philippines as one of the official folk dances of the country. This dance was also recognized during the Spanish Colonization.
Rodeo Masbateño – the only rodeo show in Asia. It is celebrated annually in April and showcase 10 competitive rodeo events. Highlighting this event is the difficult "figure of eight" competition where the cowboy crisscrosses around a group of barrels. Women participate in heart stopping events like calf wrestling, calf lassoing and carambola.