Isabela City is a 4th class city and the capital of the province of Basilan, Philippines. The city is located on the northern shore of Basila. Across the Basilan Strait to the north is Zamboanga City.
History
Isabela was first referred to by its ethnic groups (the Yakans, Samal Bangingih, Badjaos and Tausogs) as "PASANGAN", which name it still holds among the natives. In 1844 the Spaniards occupied "Pasangan", and in July of the following year was named Isabela, in honor of Queen Isabel II of Spain by Don Ramon Lubo, Marine Chief of Zamboanga and Don Catyetano Suarez de Fiqueroa, Governor of the District.
During the Spanish regime and the American occupation, Basilan was part of the Zamboanga Province, which then also included the Province of Zamboanga del Sur and Zamboanga del Norte. In 1937, the City of Zamboanga brought into existence and made Basilan as part of the newly created City.
On July 1, 1948 by virtue of Republic Act No. 288, sponsored by then Congressman Juan S. Alano, Basilan island became a chartered City, separating it from City of Zamboanga, with three Districts, namely – Isabela, Lamitan and Maluso. Mayor Nicasio Valderoza was the first appointed  City Mayor, who served until December 31, 1953, when he retire, Leroy S. Brown took his oath as the next appointive Mayor of the  City, who later became the first and the last elective Mayor of the City of Basilan.
On December 27, 1973, President Ferdinand E. Marcos issued Presidential Decree No. 356 creating Basilan Province. The Province had three Municipalities: Lamitan, Maluso and Isabela, the latter being its capital. Basilan City which previously had an area of about 1,359 square kilometers was left with an area of barely one square kilometer.
On December 2, 1974, P.D. 593 was issued amending P.D. 356 and increasing the area of Basilan Province to about 3 square kilometers and creating ten municipalities to comprise the province – Isabela, Lamitan, Maluso, Lantawan, Sumisip, Tipo-Tipo,Tuburan, Tapiantana, Malamawi and Pilas.
On December 11, 1975, Presidential Decree No. 840 was issued by President Marcos reducing the number of municipalities comprising the province from ten to seven, namely: Isabela, Lamitan, Maluso, Lantawan, Sumisip, Tipo-Tipo and Tuburan. The former City of Basilan and the Municipality of Malamawi were absorbed by the Municipality of Isabela with an area of about 22,373 hectares.
On December 12, 1975, Atty. Ricardo G. Mon, number one Councilor of the defunct City of Basilan, took his oath of office as Mayor of the Isabela Municipality before regional Commissioner Rear Admiral M. Espaldon in Zamboanga City. On January 1, 1976, Atty. Mon, officially assumed as Mayor of the Municipality of Isabela.
On March 5, 2001 Republic Act No. 9023 "An Act Converting the Municipality of Isabela, Province of Basilan into a component city to be known as the City of Isabela" was signed by President Gloria Macapagal Arroyo.  Then on April 25, 2001 the Isabeleños ratified Isabela City.
Population/ Language/ Area
Even though the island province of Basilan is part of the Autonomous Region of Muslim Mindanao (ARMM), Isabela City itselt is not part of it but is placed under the Zamboanga Peninsula region.
While administratively, the island province of Basilan is part of the Autonomous Region in Muslim Mindanao (ARMM), Isabela City itself is in not part of this region and is placed under the Zamboanga Peninsula region.
The physical feature of the whole area of the city is an irregular, rolling terrain. The steepest grades of over 60% are found in some parts of the barangays of Menzi, Busay, Panunsulan, Calvario, Kapayawan and Kapatagan on the main island of Basilan and in the barangays of Panigayan and Sta. Barbara on the offshore Malamawi Island.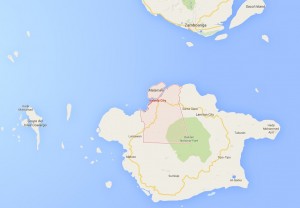 Climate of the whole area is classified under Type III zone with no pronounced rain periods and short dry season lasting from 1 to 3 months.
As of May 2010, Isabela had a total population of 97,857 living in a total land area of 223.73 km2 (86.38 sq mi). 73% of which profess Christian faith (much are Roman Catholic) and 27% are Muslims. The biggest ethnic grouping are the Zamboangueño (from nearby Zamboanga City), followed by the Tausugs (from Sulu), and the Bisaya (from the rest of MIndanao and the Visayas). There are also other groups such as Yakan, Samal/Badjao, Maranao, Ilocano, Ilonggo and Tagalog.
Local dialect includes Chavacano, Visayan Tauso and Tagalog.
Products and Services
Agricultural products is the major product of the city. These include copra, with annual production of 10,744.06 tons; rubber with 3,170.10 metric ton; cassava, 1,168.44 tons; corn, 1,046.56 tons; and rice with 646.3 tons. The marine products follows with a total annual production of 3,445.6 metric ton. Fruit crops production, such as lanzones, durian, mangosteen and marang, follows.
Tourist Spots
Kaumpurnah Mosque – historic seat of Islamic faith and teaching in Basilan, can be seen as you enter the Isabela Channel
Alano White Beach Resort – located on the northern part of scenic Malamawi Island, features white sand beaches, day cottages and basic amenities for a day of fun with family and friends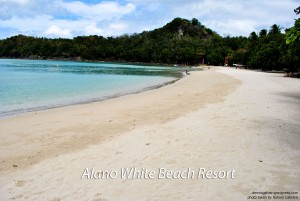 Barandino Farm – located on the eastern part of city, it is 12 kilometers from the main city and has hectares coconut and fruit trees
Cabunbata Falls – a natural watering hole for the environmentally conscious and the eco-friendly traveler.
Cathedral of Santa Isabel de Portugal – it is a seat of the Diocese of Basilan and Prelature of Isabela, In 1960s this was design as a mod-art style with a distinctively Classical Roman mosaic for an altar wall.