"Timber City of the South"
History
The natives of Butuan already established a trading relations with the Kingdom of Champa, now southern Veitnam, and Srivijaya Empire of Sumatra as early as 10th century and by 11th century, the town was already a center of trade and commerce in the Philippines.
Population/ Language/ Area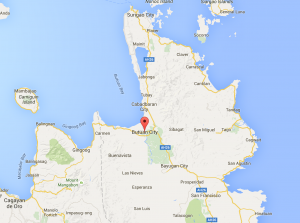 Butuan City has a total land area of 81,728 hectares  km2. A total of 4.1% of that area is of Caraga region. The land can be divided into agriculture areas (397.23 square kilometers), grass/shrub/pasture land (61.14 square kilometers), forestland (268 square kilometers) and of other use (90.242 square kilometers). The total forest land area is divided into two: the production forest area (105 square kilometers) and protection forest areas (167.5 square kilometers). In the production forest, individual tree species are mostly grown in the area while in the protection forest, trees are preserved to support and sustain necessary ecological balance.
Total population in the city as of May 2012 is 309, 709, an average density of 367 persons per square kilometers, higher that the regional average density of 101 persons per square kilometers. Much of these people speak Cebuano/Bisaya. Some of the old native-born inhabitants still speak a language called Butuanon. However, most of the people understand Tagalog (Filipino) and English.
Products and Services
The city is known for its lugging services, which earned the city a nickname "Timber City of the South". This industry helped the city be a highly urbanized city. One major factor for the continuous growth of the trees in the city is the Agusan River.
The city also take pride of their delicacy called "Palagsing". It is made from lumbiya (Metroxylon sagu Rottb.) where Unaw or lumbiya starch is harvested from the palm tree. Another popular ingredient is young coconut meat taken from coconut trees. The unawyoung coconut and brown sugar are mixed then it is wrapped in a banana leaves and boiled for 30 minutes. The outcome is a soft, chewy and delicious palagsing.
Tourist Spots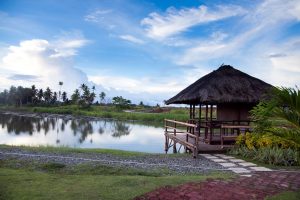 Balangay Shrine Museum – this museum displays a 1,678-year old graveyard and other ancient materials discovered in the city.
Butuan National Museum – a repository of historical and cultural materials and artifacts of Butuan's prehistory times. There are two exhibit galleries: the Archaeological Hall with stone crafts, metal crafts, wood crafts, potteries, materials for goldsmiths making, burial coffins and other archaeological diggings, while Ethnological Hall exhibits contemporary cultural materials used for living by Butuanon people.
Mt. Mayapay – this mountain plateau is 2,214 feet above the sea level. This mountain was named from the ancient Madjapahit Empire.