History
It was in 1751 when the Spanish friars first established their settlement. After 116 years, Tolong Nuevo (Bayawan's former name) had existed as early as 1868 as part of Tolong Viejo (now Municipality of Sta. Catalina). It was not until 1872 when it was formally organized into a pueblo. By 1953, the name of Tolong Nuevo was changed into Bayawan.
Population/ Language/ Area
Bayawan City, as of 2010, has a total population of 114,074. These people speaks Bisaya as their native language, there are some who speaks Tagalog and English. These two languages are mostly spoken in schools and business offices.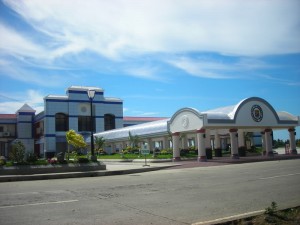 Bayawan City is located about 100 kilometers or 62 miles from the provincial capital Dumaguete City and near the provincial border with negros Occidental. It is a coastal city with a land area of 69,908 hectares (172,750 acres), the largest in the province. Mabinay bounds it to the north; Tanjay City and Bais City to the east; Sta. Catalina to the southeast and Basay to the west and it also shares a boundary with Kabankalan City of Negros Occidental on the northwest.
Bayawan City has two distinct climate seasons: the dry season, well pronounced in the months of January to May; and the wet season, in the months of June to December.
Products and Services
Bayawan is more of the rural setting than urbanized with only 2.25% of its total land area as urban area. The city is basically agricultural and its economy sits on agricultural platform. Revenues from land farming, livestock production, aqua-culture activities and marine fishing are a major income contribution of the City. In 2000, the assessment of City Agriculture Office (CAO) indicated that agricultural production was valued at Php 2.3 Billion; 91.4% of which came from crop production, 7.9% from livestock production, and 0.7% from fisheries.
The most famous delicacy in Bayawan City is "Baye-Baye" which is a concoction of roasted glutinous rice, coconut and sugar pounded or ground to achieve a unique palatability. The Baye-Baye together with the crunchy Pinipig has become a favorite and popular merienda.
Business Opportunity
The city of Bayawan has an enormous potential for economic development. It has a vast tracts of land area suitable for agriculture. It has also some forested land from which wood and other raw materials can be sourced. Fronting Sulu sea, it has untapped marine resources. Its tourism potential is largely undevelop. Together with nearby towns of Santa Catalina and Basay towns, Bayawan has a ready market of more than 200 thousand people. Electric power is readily available from nearby Palinpinon geothermal field in Valencia town. It has rivers ready to be tapped to generate electricity and provide water for irrigation.
Tourist Spots
Lourdes Falls  – is located in Barangay Narra, approximately 20 kilometers away from the city proper. The falls cascades in a crystal clear water that finds its way along multi-tiered levels that drop into a pool like basin, thus nature trekkers and picnickers often visits this place especially during summer days.
Mag-Aso Spring – This spring is located in Barangay Nangka, local and foreign tourists often visit this place.
Mantapi Falls – is a 4 kilometers away from Bayawan City and is located in Barangay Nangka. It is a source for irrigation system, and the site is also open for swimming and hiking adventure.
Niludhan Falls – is situated in Barangay Dawis which is 43 kilometers away from the city proper. The place is ideal for bungee-jumping, swimming, and picnics.
Palasanon Falls – is situated in Barangay Cansumalig, 30 kilometers away from the City. Going to the place is already an adventure and unforgettable especially upon arriving to the magnificent fall.
Festivals and Celebrations
Tawo-Tawo Festival – "Tawo-Tawo" or known as scarecrow is significantly used by most farmers in the vicinity to drive away birds, thus, farmers achieve bountiful yield during harvest. The festival features street dancing and field presentation.
Siete Dolores – This composed of seven single ladies dressed in black and goes from one house to other offering prayers during the Lenten Season. These women represent the 7 sorrows of Blessed Virgin when Jesus Christ was crucified on the cross.
Hamiling Bayawanon –This is an award that is given to any Bayawanon who made an achievement in the field of Religion, Business and Entrepreneurship, Politics and Government, Education, Peace and Order, Medicine and Public Health, Social Services, Culture and the Arts, Sports, Science and Technology and such other fields.
The awardees received a beautifully designed plaque-trophy from the city government.