History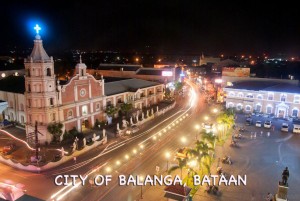 Balanga, the capital of Bataan, was formerly a visita of Abucay before it was established as a mission of the Dominican Order in the Provincial Chapter of April 21, 1714 and later declared a vicariate on April 18, 1739, under the patronage of Saint Joseph. Upon the establishment of Bataan as a separate province in 1754, Balanga was made its capital by General Pedro Manuel Arandia due to its favorable location, at the heart of the new territorial jurisdiction.
On December 30, 2000, Balanga was inaugurated as City by the Republic Act 8984.
Population/ Language/ Area
Balanga City is a first class and the capital city in the province of Bataan. According to the 2010 census, it has a population of 91,059 people in 14,065 households. The people are called as Balangueños.
Total land area, which is primarily a residential-agricultural city, is 111.63 km2 (43.10 sq mi).
Products and Services
Agriculture is the main industry in the city. Next is fishing that provides a steady source of income to those who are living in barrios near the sea. There are, however, other business establishments who set up their business here thus making Balanga a booming city when it comes to trade and industry.
Tourist Spots
Balanga Wetland Park – where migratory birds usually go. Last January 2013, the department of Environment and Natural Resources recorded 25,935 migratory birds in Tortugas, Lote Itaas, Lote Ibaba and Sibacan/Tuyo, Balanga. These birds include little, intermediate and large egrets; the black-winged stilt; the whiskered tern; the great crested tern; gray plover; shank; heron and six great crested tern.
Bataan World War II Museum – show cases the memorabilia of the World War II in the country, including the historical Death March history and the names of the people who were forced to join it.