History
The earliest recorded history of Bago City dates back from the 17th century when a group of settlers from Panay crossed the Guimaras Strait and migrated to Negros. Some of those settlers went to the banks of Bago River, one of the largest river in Negros Island.
These settlers made the rapid growth of the community. They formed a village which capable of establishing its own government. When the Spaniards came to the place, they petitioned them to make the village as "pueblo" or town and name it Bago. Their petition was granted within that same year.
Bago experienced lots of oppressions from its colonizers. However, the people still continued to live and to fight for the desired freedom. They joined forces to free themselves from being exiled. One of the noted leaders of the revolutionary organizations formed in Bago at that time was General Juan A. Araneta.
Since then, Bago continued to aim for freedom and progress which were also reached when it was declared as a city  on February 19, 1966.
Population/ Language/ Area
AS of 2010, Bago City had a total population of 163,045, all living within a land area of 401.20 km2 (154.90 sq mi).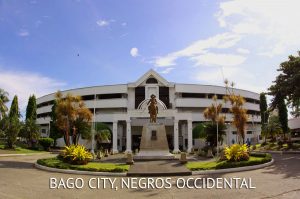 Products and Services
Bago is an Agri – Industrial City, endowed with vast and long stretch of rolling plains-carpeted with rice, sugarcane, corn, coconut, fruit trees and other high value crops.
Likewise, worthy of consideration is the world-class quality barongs made from silk thread produced by the OlSCA-Bago Training Center-Sericulture Project and the Tumandok Crafts, Industries Incorporated that produces export quality handicrafts made from indigenous materials. It proves the international caliber of Bagonhon human resources and products.
Business Opportunity
As an investment center, Bago City is a model of agri- industrial development. It offers good entrepreneurial site for the utilization of its agricultural products, dedicated and industrious human resources, an access to sea faring crafts and a well developed road networks.
Tourist Spots
In the field of tourism, the city was awarded as the Best Tourism Oriented Local Government Unit in Western Visayas, component city category.
Balay ni Tan Juan – is being utilized as a museum and a home for the antiquated materials, tools, equipment and artifacts that were used, created or crafted during the lifetime of Tan Juan. It also houses other works of art of the ancient times. This museum becomes the usual host for visiting tourists who want to know about the history, arts and culture of Bago City.
Mt. Kanlaon Natural Park – this park covers an area of 24,557.60 hectares with rainforest and verdant vegetation sliced among the cities of Bago, San Carlos, Canlaon and the municipalities of Murcia and La Castellana.
Rafael Salas Park and Nature Center – this park serves as the gateway to the Mt. Kanlaon natural Park. It appeals to mountain climbers and adventure seekers because of the long and challenging trek to the peak of Mt. Kanlaon.
Kipot Twin Falls – Kipot Falls is located at the foot of Mt. Canlaon in barangay Mailum,  western part of Bago City.
Festivals and Celebration
Babaylan Festival – this festival is celebrated every 19th of February. Babaylan Festival is based on the rituals performed by the Babaylans like rituals on marriage, baptism, healing, harvest and others. Babaylans get their healing powers from the unseen spirits.