"Gateway City of Bicol"
History
Legazpi City was named after Miguel Lopez de Legazpi, the Spanish conquistador who conquered the Philippines in 1565. The place was named as such by the Spaniards as such to Legazpi was named after Miguel López de Legazpi, the Spanish conquistador who conquered the Philippine islands in 1565, and whose family name came from Legazpi, a town in Guipuzcoa, Spain.
Historically, the city was named Legazpi, to perpetuate to the memory of Adelantado Don Miguel Lopez de Legazpi. This was the agreement made between the original inhabitants of the place and the Spaniards during the former's quest for autonomy. It took them 21 years, in which they sought the help and support of the Spaniards, then living in the town. As a sign of gratitude, the people readily accepted the name, which was also then proposed by the Spaniards upon fulfillment of their efforts.
Population/ Language/ Area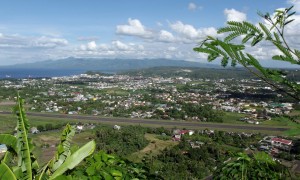 As of 2010, Legazpi City had a total population of 182,201and a  total land area of 153.70 km2 (59.34 sq mi).
The city has a tropical rainforest climate with copious amount of rainfall in the whole year. There are also noticeable wetter and drier periods of the year. The driest month is April.
Products and Services

The city, including the whole Bicol Region, is known for their native delicacy Bicol Express. It is a stew made from long chillies (siling mahaba in Tagalog, lada panjang in Malay/Indonesian), coconut milk, shrimp paste, onion, pork and garlic.
Tourist Spots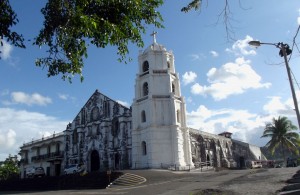 The city is also nicknamed as the "City of Fun and Adventure" because of its natural scenery and the ever-famous Mount Mayon. The city is also blessed by landscapes that made the visitors and tourists take innumerable photos and postcard.
The Legazpi Boulevard – the second longest boulevard in the country next to Roxas Boulevard in Metro Manila.
Ligñon Hill Nature Park – the best place to view the whole Legazpi City and the Mayon Volcano. This 143 meters high volcanic hill is the highest location in the downtown area and towers over the adjacent Legazpi Airport. Part includes nature trails and ziplines.
The Embarcadero is a major waterfront development in Legazpi fronting the main harbor of Legazpi with views towards Mayon Volcano. It consists of retail spaces, restaurants, markets, a major civic space and landmark lighthouse.
The Japanese Tunnel is an L-shaped tunnel used as an arsenal by the Japanese Imperial Army during the World War II. It measures 40 metres (130 ft) long and around 7 feet (2.1 m) deep below the ground. The tunnel is located in Brgy. EM's Barrio South in the Albay District.
Cagsawa Church Ruins – the ruins of a 17th century church destroyed by Mayon Volcano during its 1814 eruption.
Usable information for Legaspi City
Legaspi City Directory – Listing all business directory that you can use.
Legaspi Hotel Listings – Listing according to locations and cost.