History
Carcar was proclaimed as a city July 7, 2007. However, almost one year passed, the Supreme Court ruled that the city, together with other 16 cities in the Philippines did not meet the qualified requirements for the cityhood of a municipality. They put a criteria that in order for a municipality to be an independent city, it should have an annual income of not less than 100 million annually. These 16 cities, including Carcar did not meet the requirement, thus making it as a municipality again.
December 10, 2008, CArcar and other 15 cities affected filed a motion for reconsideration to the Supreme Court. More thaa a half year later, the court reversed its ruling and restored the cityhood of Carcar and the other 15 cities affected.
Population/ Language/ Area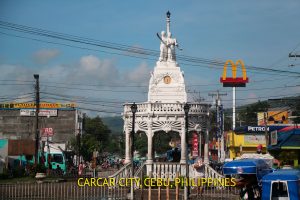 Carcar is located approximately 40 km south of Cebu City. It is bounded on the north by San Fernando; on the south by Sibonga; on the west by Barili and Aloguinsan; and on the east by the Bohol Strait. It has a land area of approximately 116.78 km².
The land is generally level with less than 18% slope composing of 78.7% of the total land area. Areas with slopes ranging from 18 to 50% cover 19.3% of the total land area and those over 50% slope comprise approximately 1.9%. The highest recorded elevation is a little over 660 meters above sea level, located within the barangay of Napo.
The wet season occurs during the months of May to October and the dry season, from January to May.
The recorded population of the city as of 2010 was 107,323.
Products and Services
A visit to Carcar wouldn't be complete without sampling its mouth-watering delights. Surrounding the Rotunda and in the public market one will find the famous Carcar chicharon, lechon, ampao, bucarillo, gogorias and puso are just some delectable delicacies worth tasting.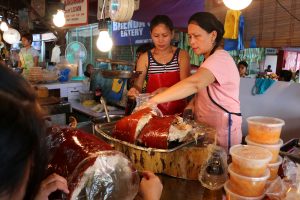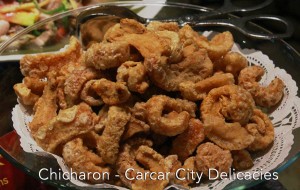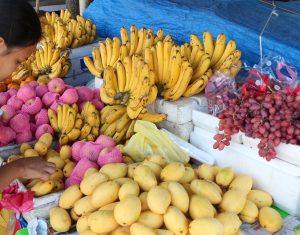 Tourist Spots
The Heritage City of Cebu, Carcar is home to various Spanish to American period structures. The Carcar plaza alone hosts several Heritage structures, the Church of St. Catherine of Alexandria dominates the area. Within the complex various structures stand. Walking towards Sta. Catalina street one will surely be astonished with the quaint houses and their distinctive architectural details.